Guild Names: Checkmate, Averon, CM, Ascendance, Resurgence, Stalemate
Contact: Shaze#7493, Fawked#1337
Server/Region/Guild Tag: TBA, Europe, [CM]
Discord: https://discord.gg/checkmate
Guild Website: https://cm-guild.com
Apply: https://forms.gle/xXGXbzQrw5TkjVfT7
Hardcore PvX guild that specializes in large-scale PvP. Heavy server presence and leaderboards are our focus. We require constant progression and end-game relevance. We push guild organization to its limits and offer the most powerful tools, spreadsheets and discord bots available for MMOs rivaled only by Legacy/Veritas. PvE content is cleared in order to PvP. We do NOT accept pure PvE players. Our Discord is public, you're more than welcome to join our discord and speak to us.
MMORPG's that we are Actively Playing / No longer playing / Potential Rosters as of April 2021.
ACTIVE ROSTERS
» Swords of Legends Online: As 'Checkmate' (EU Server A1)
» Ashes of Creation: As 'Checkmate + 'Averon' (Alpha 1 server)
» Elyon: AIR: As 'Checkmate' + 'Averon' (KR-Decem server/TH-Inventus server)
INACTIVE ROSTERS
» Revelation Online: As 'Resurgence -> Ascendance' (Moonsea server)
» Bless Online: As 'CM' + 'Stalemate' (Physis server)
» New World: Under OwO/Legacy (NA-Alpha1 server)
» Archeage: Unchained: As 'Checkmate' + 'Averon' + 'Resurgence' (Alexander server)
» WoW Classic: As 'Checkmate' (Mograine server)
» Lost Ark: As ''Checkmate' (RU-Сирион server)
POTENTIAL ROSTERS
» Archeage 2, Crimson Desert, Lost Ark, Moonlight Blade, Corepunk, Lineage Eternal & LOTR
WHAT WE OFFER
» Top PvP Shotcallers [+] Fully Automated Infrastructure
» Google Drive Based Logistics [+] Miro-board Intel + OpSec
» Integrated Sheet API + Scripts [+] Web API-based Market Hub
» Experienced Leadership [+] Custom-coded Raiding tools.
» Self-coded Discord Bots [+] Too manyspreadsheets
» Static-based PvX Roster [+] Organized Content (PvP and PvE).
» A Well-built, Established Roster [+] Healthy, Constructive Environment.
» In-depth Guides and Resources [+] Interactive Community Projects.

Experienced Leadership
Experienced Leadership that will not waste your time. Everything about us, ranging from our shotcalling to our PvP experience is tailored towards large-scale PvP content. We are focused on being the best at siege content and we showcase the above in everything we do. Besides this, we believe in good PR.



Automated Infrastructure
In our vision to push guild organization to its limits, we've established Discord as our primary platform and have built our features around it. Everything from our application process to the tools we use on a daily basis are fully automated thanks to the tools we've created. By automating our infrastructure, time that would normally be dedicated towards menial tasks is instead utilized towards other activities.



Alliance Features
Guilds that are part of an alliance with us are given full access to our logistics, spreadsheets, boards and infrastructure, allowing them to stay ahead of the curve. We're open to working with other guilds of all playstyles (Casual / Social / Semi / Competitive / Hardcore) for Node-based content. However we prefer to be by ourselves for Castle related content.



Roster Composition as of April 2021
Seasoned MMORPG players. Experienced PvP Shotcallers. Layered Comms. Organized Roster. No bullshit.

OUR FOCUS
» Large Scale PvP. Faction Wars. 15v15 Battlegrounds. World Bosses.
» Pushing guild organization & management to its limits. Top-notch tools + resources.
» We strive to be at the top amongst other competitive guilds in open world PvP + leaderboards.
» Diplomacy is our strongsuit. Clear & Concise relations based on return investment.
» Objective-based PvP, not griefing. Guild + Player progression is key.
» Information and knowledge regarding Swords of Legends is key to our success.




OUR REQUIREMENTS
» Large-Scale PvP Mandatory - High attendance during open world PvP events. (Sieges/Wars/Bosses/etc.)
» Meta Character Progression - Character + Gear progression. (Ensure your character/equipment is meta)
» Mandatory Voice Comms - Microphone + Voice chat is compulsory. (Active on Discord - Voice + Text)
» Launch Day Level Rush - Commitment to rush towards level cap on release. (Enjoy server queues)
» Good PR - Maintain good public relations/appearances. (Guild Reputation takes priority over You)
» Discord Primary - Able to speak English and follow commands. (English is mandatory)
» Non-Toxic - Public Trash talk will not be tolerated. (Say GG/GF or keep it to DM's)
» Be Mature - Stay Open-Minded. Drama is frowned upon.
» No Bullshit - Dont waste our time and we wont waste yours.



WHY DISCORD
We've integrated our spreadsheets and bots to work with Discord to ensure a simple yet effective method of management. Our members are able to adjust their data across our spreadsheets via integrated bot commands within Discord. No messy permissions or confusing edits, just incredibly efficient google scripts. The above combined with our in-house coded Discord Bots lets us provide our members with an array of tools to better enjoy their experience.Besides the above, Discord lets us manage an active roster and is an alternative to the traditional forums as it lets us host both text and voice channels for our members. It plays an important role in our guild as it is available on both PC and Android, thus allowing us to stay in touch with our community. Our bot is set up for custom event notification pings to ensure quick and efficient updates. An optional Teamspeak server is available for static groups that need it.

Updating spreadsheet data via simple discord commands:



ADDITIONAL INFORMATION ABOUT US + HISTORY
We believe that one cannot excel at PvP unless they are consistent in clearing PvE content. Efficiency, Organization and Respect are the core values that we are built upon. We require that our members constantly progress towards end game and stay relevant. Regarding our history, we were one of the top guilds in Revelation Online under the name Ascendance (previously known as Resurgence) on EU-1 Moonsea server. Next during the first 2 months of Bless Online we held top ranks under the names CM & Stalemate on EU-1 Physis server before the game died. Later we were one of the top 3 alliance guilds in WoW Classic on EU Mograine server. Followed by being one of the top guilds in Elyon: AIR on Thailand Inventus server. We understand that it is too soon for players to decide what guild they would like to join at launch, thus we welcome all interested applicants to join our discord server.




What if I'm more of a social but still competitive player?
We understand that people have lives and cannot invest ridiculous amounts of hours into a game. What matters to us is that you, as a player, progress towards end game (be it in the form of gearing up, clearing content, etc). If you're a Semi-hardcore player and are interested in joining us, reach out to us on Discord and talk to us. We're willing to make exceptions under certain circumstances. As for crafters, we've got a few dedicated slots set aside for you. Understand that this is a position of importance as we'll be relying on you to excel at your profession to provide our members with high quality gear.


Revelation Online Clan Wars: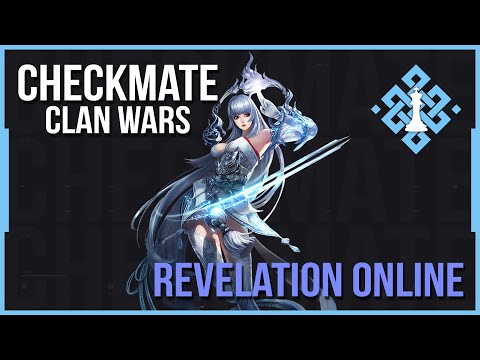 Bless Online 60v200 (Invading Enemy Faction Capital):