The first beta has only just finished, and we're ready to invite you to the second one! After going through all your first impressions and experiences of the alpha and the 1st beta, we have been able to change and improve quite a few things.
Summary:
We've removed one of the battlefields from the game, but faction battles are available.
Hard dungeons are really hard now.
We've improved the way you reach max level.
The NPCs have learned a new language: we've added English audio.
We've squashed countless bugs.
Beta 2 Details
Time Period
Players who have pre-ordered an edition of the game automatically have access to the beta via their account (via the Gameforge Client or Steam). Additionally, players who have received a beta code (from friends, random draws, etc.) and have redeemed it via the Gameforge Client also have beta access. This also applies to all players who redeemed a code for the 1st beta. Those accounts have access too.
Start: 1st June 2021, 2 PM CEST/8 AM EDT/5 AM PDT

In Progress & Known Problems
We are already very far into the process of translating the text of the game. However, some sections of text are still in Chinese or need some tweaking.
Many of the NPCs and the system voice speak English now. We're working hard to make sure the missing recordings are ready and in the game when it launches.
Notes on Optimisation
During the 1st beta we received lots and lots of feedback on a diverse range of topics. We've given this feedback to the developers so that they can be evaluated in detail.
We're currently in discussion with the developers regarding the complex topic that is optimisation. But for now we'd like to show you all some tricks for how you can already improve performance.
First make sure your computer isn't in a power-saving mode that will restrict your computer's performance and what resources it has access to (especially important for laptops).
Reduce Other Player Effects
Use these settings to make other player's special effects less visible, or to completely hide the effects of players in your group:
All Players: Game Settings > Advanced > Combat


Specific Group Members: Right-click on the member of your group whose effects you want to hide

Hide Other Players
As well as reducing special effects, you can also completely hide other players and their pets to use up less resources:
Hide Pets: Game Settings > General > Display


Hide Other Players: Menu bar at the top of the screen

Factions
We've received a lot of suggestions and worried comments regarding the missing faction system. So we went over the content we have planned for the launch again, and factions will now be available in the game as of the 2nd beta (and, of course, once the game is released in Summer 2021 as well).
The Skill "Faction Mode" is also available, with which you can flag yourself to be "in faction combat" to attack other factions members freely in the world (is automatically turned on in the Valley of Echoing Blades).
This toggle can only be used once per day, and is reset at 6 AM server time after being used. In your faction hall (Valley of Echoing Blades), you can buy Tranquility Pearls that reset that cooldown (max 2x per week).
Killing players from enemy factions does not incur negative QI - though they need to be flagged to be attacked.
Please note: it's possible that some content that has been added to the new plan isn't translated yet, or might only have a basic English translation. We want to get these texts into your language for you ASAP too.
The Two Factions
There are two factions for you to choose from:
First there's Heaven's Children. Their members wear light blue and are the Daoist cultivation alliance. They have pledged themselves to the pursuit of order and morality. Their base is the White Crane Temple at the northern peak of the Valley of Echoing Blades.
Standing opposite them are the Mystics, whose members can be identified by their dark red clothing. They lead their lives in conformity to strict rules, are in harmony with nature, and worship several deities. Their base is the Jiahe Ancestral Temple at the southern peak of the Valley of Echoing Blades.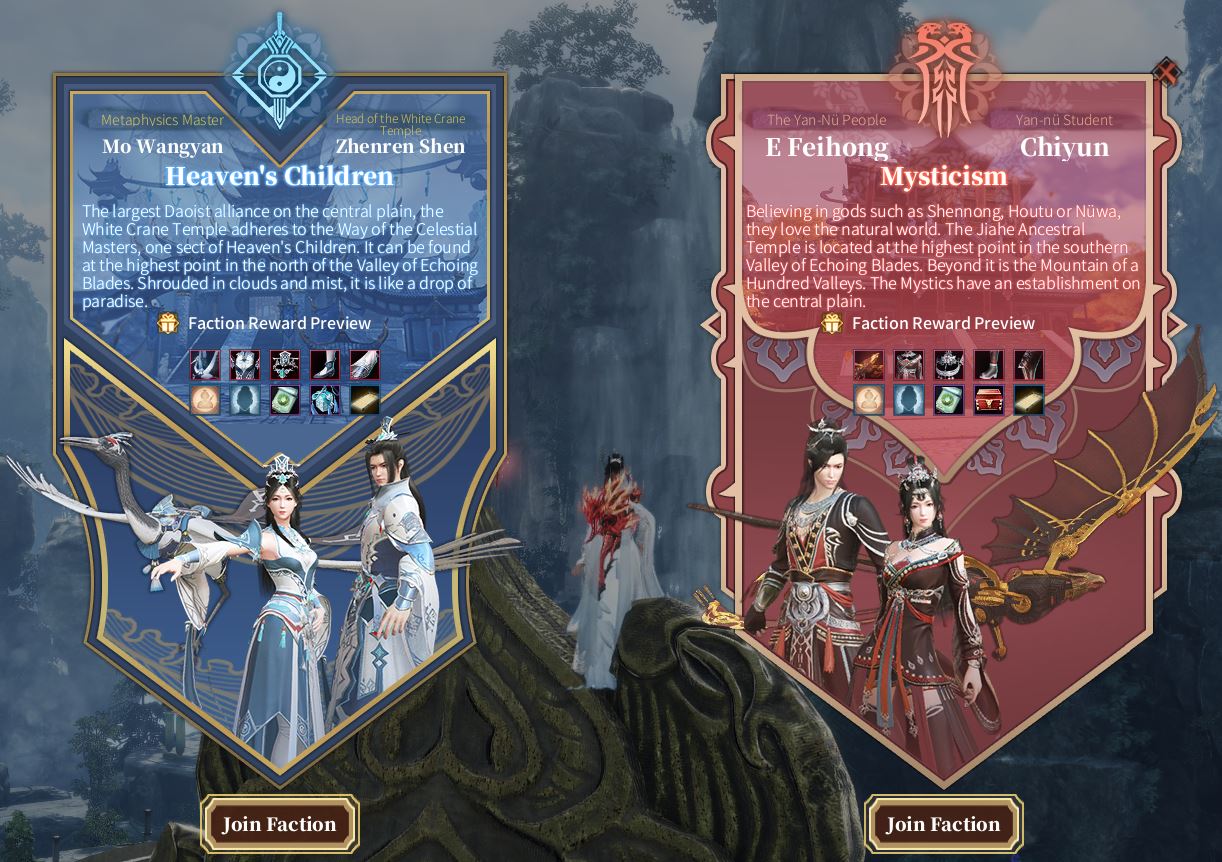 The Valley of Echoing Blades
This is the region in which the two factions battle it out. The Valley of Echoing Blades is a region in a constant state of war, in which the enemy factions can engage in battle with one another without being penalised.
You'll be able to earn points or stop your enemies earning points during daily quests set in this region. You'll be rewarded with rank points for your faction, as well as the usual PvP rewards.
On top of that, there will be some days where you can take part in various activities in the Valley of Echoing Blades – make sure to take a look at the Production List (second tab on the left in the Cultivation menu (J)) so you don't miss any!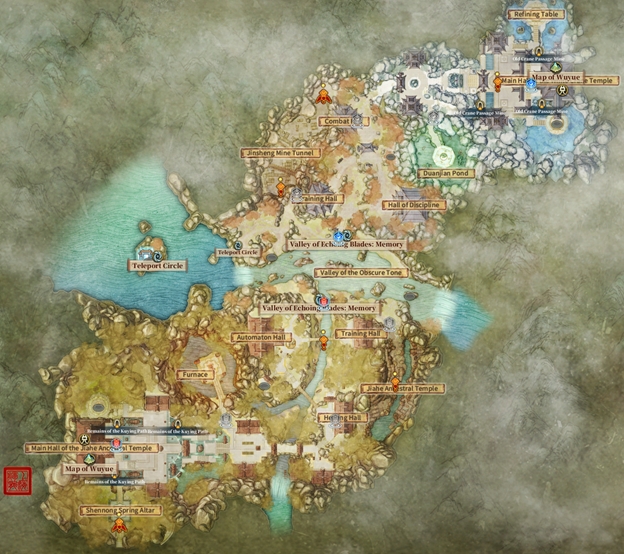 Criteria and Limitations
Becoming a member of a faction is part of the PvP tutorial, and is done on a per character basis: so that means you can have heroes in different factions. After becoming a member, your character will belong to that faction for at least week. You can change factions once per week. Once you are able to change factions it will cost you 50 Gold to do so.
Note: Additional modes (only joining alliances for specific factions and so on, '100 v. 100' weekend battles, etc.) will be available in a future version of the game.
Battlefields
Battle in the Sands
This content has been removed from the game for now, and will be added back at a later date.
Dungeons
Hard Mode
We have increased the difficulty of the 5 accessible dungeons. Regular enemies now deal significantly more damage, and bosses have had their health and attack stats increased slightly.
Note: The hidden bonus bosses in the 1st beta had already had their stats increased in this way, and now that's been applied to all the other enemies and bosses.
Extreme Mode
We've received your feedback on this and have been in intense conversation about it with the developers. We have come to the conclusion that the extreme dungeons shouldn't be added to the game yet, as they would just be much too difficult once the game is launched.
We and the developers understand the desire for more challenging content, which is why we have made the hard difficulty dungeons more difficult. We want to have new, enthralling content (raids) ready for you within weeks (rather than months) of the game being released. So you'll certainly get the challenges you desire!
Other Changes
Reaching Maximum Level
At level 15 you'll now find a guide to taking on the Chang'an quest series in the Cultivation menu (J), so you won't have to look for this in the game any more.
Levelling in story quests between levels 33 and 36 has been significantly improved.
Please note: this applies to new characters, as well as characters that aren't too far into the leveling yet. As changes are made to various story quests, characters that are already close to the specific levels might not take advantage of this change fully.
Miscellaneous
Various other small adjustments were made to the user interface (Alliance, Interface Settings, Dragonstar List, etc.)
The wardrobe in the shop will now display content that's available.
A VO language selection toggle has been added to the game options. Please note that this isn't effective for the moment. Switching from the default "English" to "Chinese" will result in no VOs playing at all.
Bug Fixes

Note: Some special characters in character names cause issues (unable to buy Items in the Mall, lines not appearing in the Chat). This should be fixed for launch as the final character naming rules are still Work in Progress.
55 is now the max level recruited companions can reach.
The Healer skill trainings are now only available once switching their mastery is unlocked.
We've resolved an issue with the Spearmaster tutorial.
Unavailable dungeons will no longer appear in group search.
We've resolved several issues with loot in various parts of the game that weren't adjusted to our version.
Some enemies have had their levels adjusted to match the current version.
Requirements for the "Lazy Competitor" buff in Battle of the Continents have been adapted
Default alliance ranks are now English (only newly-created alliances)
Previewing in the Mall gifting mode is back to male and female only
Airships in the Spearmaster zone are now displayed completely
Selection options of the PvE Noble Knight box are now translated
The last page of the emote menu is now translated
Triple jump now unlocks correctly regardless of character level
Spaces are no longer removed from the Effect list settings